Biotopia Fest - Skin Close
Bringing together scientists and designers to explore the fabrics of the future, June 16th, Schloss Nymphenburg
13.06.2018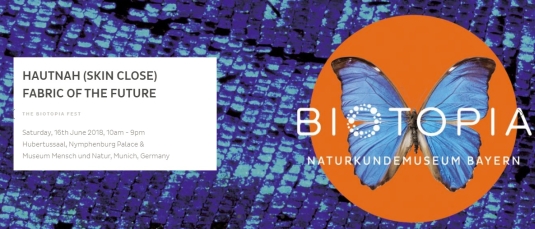 Hands-on workshops, exhibitions, talks and a fashion show to engage curious minds of all ages
BIOTOPIA, a new museum of life in development in the beautiful surroundings of Schloss Nymphenburg in Munich invites you to explore textiles and materials of the future on Saturday, June 16th, 2018. The programme includes open labs, workshops, exhibitions, talks, children's programme, a treasure hunt and a fashion show lasting from 10 a.m. to 9 p.m. The visitors will have the opportunity to experience science at first hand. Free Admission.
"SKIN CLOSE – FABRIC OF THE FUTURE" marks the first event of an annually BIOTOPIA Festival, launching in the summer of 2019, emphasizing a participatory, experience-based approach to a varying thematic focus each year.
BIOTOPIA takes a bold new approach with inter- and transdisciplinary activities at the intersection of life sciences, art and design to engaging people with some of the most critical issues of our time and aims to explore, question and reconfigure the relationship between humans and other living species.
SKIN CLOSE ("HAUTNAH") – FABRIC OF THE FUTURE
THE BIOTOPIA FEST
Saturday, June 16th, 2018, 10 a.m. – 9 p.m.
Hubertussaal, Johannissaal, Orangeriesaal and outdoors at Nymphenburg Palace, Nördliches Schlossrondell, 80638 Munich
Related Links