Soapbox Science Online Event
this Saturday, 6th of November at 5.30pm
04.11.2021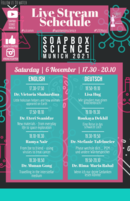 Science is complicated, boring and has nothing to do with real life? Soapbox Science Munich will prove you wrong!
Join us SATURDAY, November 6th and let us bring all kinds of science directly to you. That's right, this time you won't even have to get off your couch!
We will have a line-up of 8 fabulous speakers who will talk about their research in an approachable and fun way, without a PowerPoint (but this time with a microphone), directly from your screen!
Absolutely everyone is welcome, the event is suitable for all ages, genders & educational backgrounds so invite your friends and families!
· English speakers, 17:30 – 18:50
· German speakers, 18:50 – 20:10
For more information please check our social media channels:
Facebook: @munich.soapbox
Twitter & Instagram: @munichsoapbox
Youtube: Soapbox Science Munich