Sustainable World 2019 - REGISTRATION is now OPEN
The GSN supports the initiative of the Life Science Network Munich
11.04.2019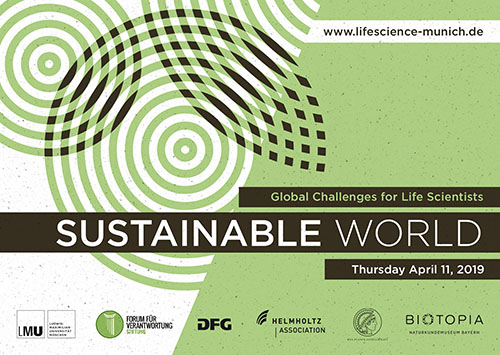 The 2019 collaborative event organized by the Life Science Network Munich, with support from the Forum für Verantwortung focuses on Sustainability.
The life science graduate programs in the greater Munich area, affiliated with the LMU, TUM, Helmholtz Zentrum and the MPIs have been hosting events on overarching topics broadly relevant for life scientists, such as good scientific practice (Responsible Research 2014/2017) and emerging technologies (Cutting-Edge Technologies 2015).
This year, talks will be presented by experts on different topics related to sustainability, world health issues, environment, and climate change, giving the audience also a handle on constructive steps toward achieving sustainability and Global Goals.
Registration will be closed on Tuesday, April 9, 2019.
Date: Thursday, April 11, 2019
Time: 10:00-18:00
Location: Biomedical Center (BMC), Small auditorium
(Roomfinder: www.bmc.med.uni-muenchen.de/kontakt/karte/ )
Open to students, doctoral candidates, postdocs – scientists of all level!
Participation is free of charge. More information: www.lifescience-munich.de