Life Science Innsbruck Symposium 2016
held on March 31st and April 1st, 2016 in the Center of Chemistry and Biomedicine. Deadline for abstracts: February 29th, 2016
17.02.2016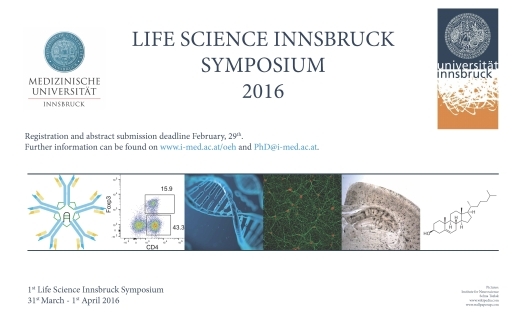 The Symposium is a joint event by the three excellence programs:
Molecular Cell Biology and Oncology (MCBO),
Signal Processing in Neurons (SPIN) and
Host Response in Opportunistic Infections (HOROS)
together with various other clinical and non-clinical PhD programs at the Medical University of Innsbruck and the Leopold Franzens University Innsbruck.
Beside poster sessions and short talks, a career workshop will be organized.
Plenary speakers:
Prof. Cryan from the University College Cork,
Prof. Alexander Friedrich from the University of Groningen,
Prof. Kirchhausen from Harvard Medical School
Prof. Knoblich from the Institute of Molecular Biotechnology in Vienna.
Deadline for the abstract submission: February 29th, 2016.
Submit your abstract to phd@i-med.ac.at
Related Links