FENS - SfN Summerschool
Brain reading and writing: new perspectives of neurotechnology, 2-8 June 2019 - Bertinoro, Italy
21.01.2019
Applications are open for the summerschool on neurotechnology organized by Pieter Roelfsema and Andrew Schwartz.
Deadline: 4 February 2019
Recent advances in neuroscience and technology have made it possible to record from large assemblies of neurons and to decode their activity to extract information. At the same time, available methods to stimulate the brain and influence ongoing processing are also rapidly expanding. These developments pave the way for advanced neurotechnological applications applied to the human brain.
In this course, we will discuss the intracortical methods being developed for reading from, and writing to, the brain. A set of international lectures will provide an overview of the emerging therapeutic applications made possible with this technology. In addition to being exposed to new hardware, students will learn about, and apply new computational approaches to facilitate brain-device communication. We will discuss some of the interesting ethical ramifications of a neuro-technologically assisted future.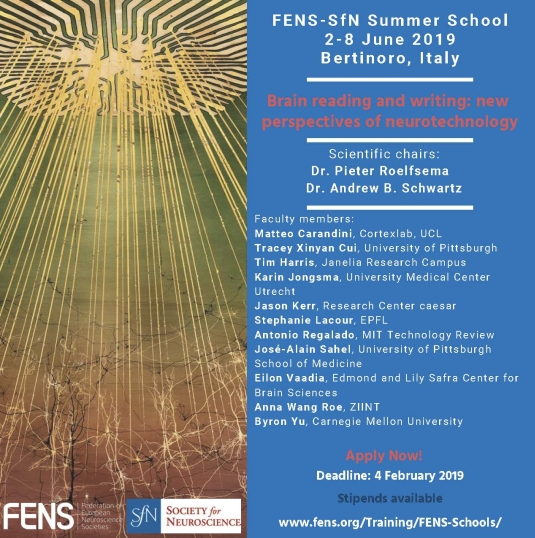 Registration and stipends
Fee: FENS Members: 495 EUR
FENS Non-members: 575 EUR
Registration fee covers tuition, accommodation and meals.
FENS offers 4 stipends (covering the registration fee) available for candidates from disadvantaged countries. Any applicant in need of a grant should however first try to request it from the lab, institution or government if possible. You can apply for a stipend inside the application form.
Please note that if you already benefited from a FENS grant in 2019, you are not eligible to receive a stipend.
Source: https://www.fens.org/Training/FENS-Schools/Summer-School-2019/
Related Links