Key focus areas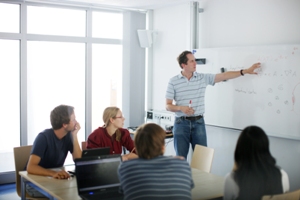 In order to guide our students in acquiring excellent knowledge and practical proficiency in key focus areas, our teaching concept is based on three major measures:
1. Comprehensive education: The educational program is based on several main scientific topics, that of systems neurobiology, molecular and cellular neurobiology, computational neuroscience and neurophilosophy. Students can choose between a Systemic-Cellular-Molecular Neuroscience track or a Computational Neuroscience track, offering enhanced flexibility and focus on their academic goals. Our curriculum takes the students on a "round trip" providing a profound understanding of the biological principles in brain structure and neuron-neuron communication before broadening the scope towards cognition and higher brain functions, computational methods and philosophical aspects in neurosciences. The main portion of the comprehensive education takes place in the first two semesters of study, during which time GSN Fast-track and GSN PhD students are also enrolled in the same courses.
2. Individual research training: Each semester the student has to complete an individual research project. This will guarantee hands-on research training from the very beginning and gives students the opportunity to become acquainted with participating laboratories and researchers. In addition to the mandatory general courses, students can choose from a broad spectrum of methods and interdisciplinary courses. Students complement their education in neuroscience with a master's thesis.
3. Complementary skills: Our education concept would not be complete without training of complementary skills, which supplement our core curriculum and help to optimally prepare students for their future career goals. In their second year, our students obtain first hand teaching experience (and credits) by tutoring their younger fellows. In addition to a scientific education, the master's program includes modular workshops on academic transferable skills such as communication training, presentation skills, scientific writing, and time management.
For detailed information go to Curriculum.