Year 2 - Advanced training
Schematic overview of the MSc Neurosciences program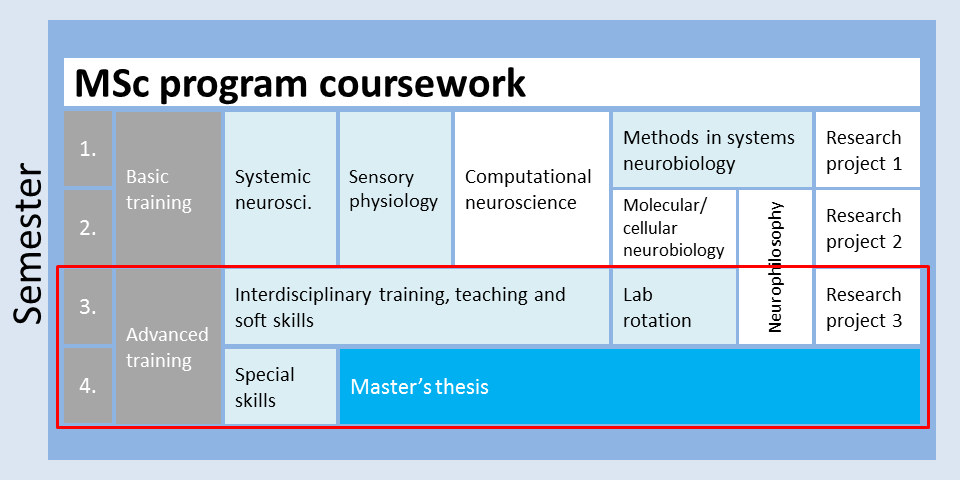 The second year of the master's program aims to deepen and expand the knowledge of systemic neurosciences gained in the first year.
Interdisciplinary training, teaching and soft skills
Students expand upon their neuroscience skill set by completing a large variety of elected practical courses, workshops and seminar series, which reflects the broad and dynamic scope of neuroscience in Munich. Students also obtain first hand teaching experience (and credits) by tutoring their younger fellows in Systems Neurobiology I - Fundamentals in Neurobiology. Coursework is rounded out by elected complementary skills courses, which help to optimally prepare students for their future career goals. This requirement can be meet through modular workshops on academic soft skills such as communication training, presentation skills, scientific writing and time management. nach oben
Neurophilosophy
(see also year 1)
In addition to the lecture and tutorial in the preceding semester our students are invited to strengthen their neurophilosophical skills in a seminar.nach oben
Lab rotation
This module requires practical work within an active research lab. The student chooses from a wide selection of lab within the framework of the GSN faculty or external institutions. nach oben
Master's dissertation and thesis
Students choose a research topic along with their faculty mentor to present and defend at the end of their second year. Our system of multiple Research Projects, lab rotation and practical courses ensures that our students get hands-on knowledge of different research labs and topics before choosing a specific master thesis.