Honorary Doctorate
First GSN Honorary Doctorate for Prof. Dr. Alan Palmer
The first Honorary Doctorate Degree 'Doctor of Philosophy honoris causa' was awarded by the GSN on December 15th, 2017 to Professor Dr. Alan Palmer for his outstanding research and lifetime achievements. The Honorary Doctorate Certificate was handed over by GSN Speaker Professor Dr. Benedikt Grothe in the festive setting of the GSN Graduation Day in the Old Auditorium of the Ludwig Maximilian University Munich.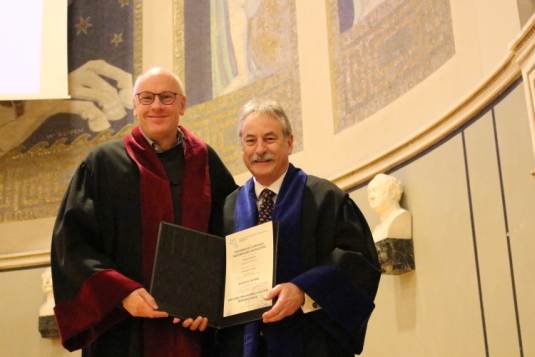 In his inaugural talk with the topic I hear where you are coming from..., Alan Palmer gave a vivid and fascinating overview of his scientific work in his main research fields of hearing.
Born in 1951 in England, Alan Palmer studied 'Biological Sciences' at the University of Birmingham (Bachelor with First Class Honours, 1972) and 'Communication & Neuroscience' at the University of Keele (PhD, 1978). In 1983 he was already leading his own lab as Royal Society Research Fellow at the University of Sussex. Other steps in his career followed at the MRC Institute of Hearing Research (University of Nottingham) up to his announcement as Director of the MRC Institute in 2012.
Among various prizes and awards, Alan Palmer is an elected member of the MRC College of Experts, received the Hartmann Medal of the Acoustical Society of America, is a member of Faculty of 1000, and received the 2017 Award of Merit from the Association for Research in Otorhinolaryngology (ARO), acclaimed as the highest honor within the field of auditory research.
Alan Palmer's main achievements can be divided into three main areas: firstly, he contributed significantly to our understanding of spatial hearing. Another main achievement of his work is a deep understanding of temporal coding of acoustic stimuli. Finally, Alan Palmer and his team contributed decisively to the principles of spectral processing in pattern recognition and spatial hearing.
During his scientific career so far, Alan Palmer published about 170 articles which have been cited more than 7.000 times, an astonishing number given the size of the auditory field and the small labs he always preferred. Moreover, the issues addressed in his relation to topics that are highly complicated and rarely appreciated by the wider neuroscience community, although absolutely essential for our understanding of hearing.
In his Laudation, Benedikt Grothe pointed out that Alan Palmer is not only a successful scientist but also a wonderful colleague and a great teacher who deserves recognition because of his achievements, his intellectual contributions and because of his respectability.